18 July 2000, Rajahmundry, India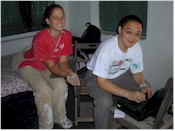 Good day to all of you. My name is Becky Taylor, and on behalf of the India Crew, it is my turn to update you on what's up...
We are about to begin our second work day at the old seminary, and we're already making excellent progress. We have discovered expert painters in our group who get almost as much on the walls as on themselves! We also have found some pretty tough yard workers--better stay out of their way!! The children here are amazing. We adore them almost as much as they adore us, and spending time with them is extremely rewarding. Everybody here loves to hear us sing. In fact, they love to hear us sing so much that we sang at four churches on Sunday! You'd think we were on tour!! Overall, we are safe, healthy, in the hands of wonderful hosts, and living in better conditions than any of us could have hoped for. Keep us in your thoughts and prayers, as all of our thoughts and prayers are with you. Tata!
16 July 2000, Rajahmundry, India
Ah ha! Thanks to our friends--Naveen, Sreenivas, Suresh, and Toni--here in Rajahmundry, we have been able to post this web site!! We thank all of them for their gracious help, and we hope to be able to post our updates, photographs, and journal entries here on a semi-regular basis. More coming soon!!
14 July 2000, Hyderabad, A.P., India
Namaste, family and friends. That means "hello" in Telugu. My name is Tracy Pollick, and on behalf of the entire India Crew, I bring you our first update. We arrived safely in Hyderabad yesterday, rested and healthy. The weather here is about 80 degrees F and breezy, which is a lot cooler than we expected. Our hosts are very kind and accomodating, and we are adjusting to the food and eating with our hands. The traffic here is also very exciting and unique.
We will spend the remainder of the day in Hyderabad before taking the 10 hour train ride to Rajahmundry this evening. If things go according to our plans, then we will try to leave messages twice each week. Please know that we will not be able to contact you individually, so please do not expect emails or telephone calls from individual crew members. You are all in our thoughts and prayers, and we thank you for your continued support. God bless!