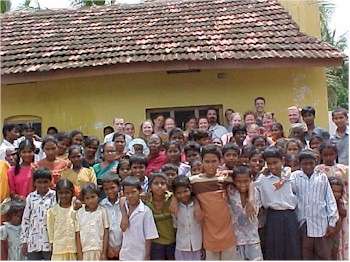 Welcome to the web site for the
Side By Side Global Work Crew 2000 to India!!
We thank you for taking the time to visit our site to view photographs,
read our journal and updates, and to learn more about our experiences in India!
Your prayers and support are invaluable to each one of us
and to God's ministry, both here in America and abroad.

The Work Project
Andhra Christian Theological College, Luther Giri Bible Women's Centre
Rajahmundry, India
Before...

...and After!

| | |
| --- | --- |
| | Crew Updates - Read updates from our crew, posted whilst we were in India. |
| | Photographs - View photographs of our experiences, arranged chronologically. |
| | Journal - Read about our experiences first hand, including quotations and anecdotes. |
| | Profiles - Learn more about each person on the India Crew and how to contact them. |
| | Guest Log - Leave a message to the entire crew and record your visit to the site. |

Web site design by Nathan Roemer, assisted by Ian Somerville.
Digital photographs by Shawn Smith and Heather Rose.
Contributors include all members of the India Crew. The India Crew is:
Casey Christiansen, Holly Gold, Roy Heflin, Jocelyn Johnston, Erica Lambart,
Roberta Moore, Darren O'Hare, Zac Pennell, Tracey Pollick,
Nathan Roemer, Heather Rose, Wendy Schelper,
Shawn Smith, Ian Somerville,
and Becky Taylor